Softball team hosts homerun derby for local charity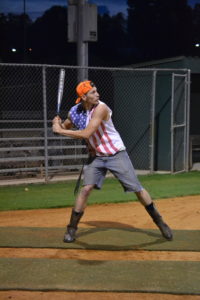 By: Alexandra Smith, Sports Editor
The Piedmont Lady Lions softball team hosted a home run derby to help raise canned food for the canned food drive currently happening in the athletic department to benefit the Clarkesville Soup Kitchen.
Participants dressed up in Halloween costumes for the event. They could either donate canned goods or pay three dollars for a chance at five outs.
Junior baseball player Jacob Brewster won the competition for the men with 15 home runs in five outs.
Brewster said, "It was a fun experience. It's always good to have fun for a good cause."
The softball team set up cones inside the outside fence to count home runs for women and the outside fence was the boundary for men.
"I didn't really have a strategy. I just tried to have fun and hit the ball," said Brewster.
The softball coaches slow pitched the balls to the participants, and the softball team was in the outfield and outside the fence gathering balls scored for home runs.
Kendall Newell, a sophomore for the Lady Lions, said, "I was really happy with the turn out, and I hope that we can do it again next year. The can drive is a great cause for the athletic department to support because it stays in our area."
The softball team raised over 70 cans at this event, and about 15 students participated in the derby.
Sophomore softball player Tori Mitchell said, "We were really happy about the turnout. It was great to see so many people out supporting our team and everyone had a great time with it as well. It was just a great night."
The softball team handed out t-shirts and candy goody bags to the winners of both the men and women's categories at the end.