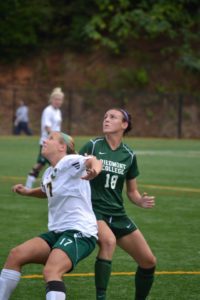 By: Alexandra Smith, Sports Editor
The Lady Lions' women's soccer team faced the Panthers of LaGrange College this past Tuesday. The Lady Lions needed just two goals to beat the Panthers 2-0.
The game went scoreless until the 40th minute when senior forward Megan Heim found a deflected ball and slid it past the Panther's keeper for the first goal of the game and Heim's first of the season.
That goal would be the only in the first half, but was no shock as the Lady Lions posted 11 shots.
Piedmont's second goal came from senior forward Laura Goodwin. Goodwin has tallied ten goals in ten games this season. Goodwin's goal came just five minutes into the second half when she slotted her goal from outside the box.
Goodwin said, "My success stems directly from my teammates. Everyone contributes on the field in a different way. I've been so fortunate this year to play with girls who care about the team's success rather than their individual success. Our team has a common goal, and we are all working toward it."
Piedmont's win keeps them perfect in USA South conference play at 4-0-1 and 8-1-1 overall this season. The Lady Lions are one of two teams still perfect in conference play, the other Averett College, who the Lady Lions will play away on Oct. 29.
"LaGrange was a lot less physical than some of the other teams we have played so far in conference," said Goodwin. "However, It was still a challenge because they always come prepared and play their best against us."
The Lady Lions hold their ten game winning streak after defeating Agnes Scott this past Saturday 2-1. Piedmont hosts North Carolina Wesleyan College Oct. 11 for their sixth conference game at 5 p.m.