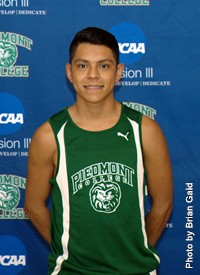 Esteban Salazar
Freshman, biology major
High School: Gainesville High School
Hometown: Gainesville, Ga.
Experience: I've been running cross country for four years and track for three years
What are your rituals and superstitions?
Before my race I run a good hour run and take a ice bath , and I have a good dinner. I always call my mother, and we have a prayer together. The day of the meet I listen to music to stay concentrated and not nervous. Right before the race, I dedicate my race to my grandmother that passed away
Why did you choose PC?
I chose piedmont because it's a great environment,  and I love how everyone here gets along . I like the size of the classes.
What are your plans after graduating Piedmont?
After graduating college, I plan on attending PT school and finding a stable job.
What is your greatest personal achievement? 
My greatest achievement is attending college, because I am the first in my family to attend college I put a lot of hard work to attend college.