Volleyball digs out two wins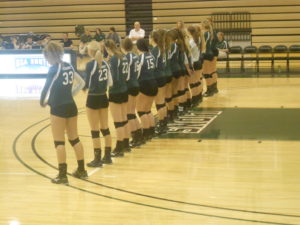 The Lady Lions Volleyball team roared this Saturday as they played against Huntingdon and LaGrange College.
.Huntingdon College at noon started off with Huntingdon in the lead, but the Lady Lions quickly caught up, tying the first set within three minutes.
In the first set, sophmore setter Xandy Green landed the team their sixth point after her first serve while junior Kaitlin Norman gave the team their 18th and 19th points in the game against Huntingdon.
The Lady Lions seemed completely in sync as they made dives and jumps for the ball.
By the third set, the Lady Lions beat Huntingdon 25 to 14 putting them at a 3-0 straight set in the first match of the day.
Coach Sid Feldman had a few words for how he felt about the first match.
"It wasn't a great performance until the third set," Feldman said. "We knew that Huntingdon was weak this year because they were rebuilding their program. I don't think the kids got pumped up for the match."
Feldman mentioned that he was looking forward to the next match against LaGrange College since he felt that they were a better team.
When the time rolled around for the 4 p.m. game against the LaGrange Lady Panthers, the Lady Lions showed no mercy as they dominated the court during all three sets, gaining another straight set win.
Green was all smiles after the match as she high-fived and congratulated her team. "We played really well together as a team," said Green. "All of our strengths came out and it was just awesome."
"LaGrange can drive people crazy," said Feldman. "Even though we beat them, it was by the skin of our teeth. After LaGrange beat Huntingdon so bad, I didn't think we would beat them, and I was more than pleasantly surprised that we rose to the occasion."
The team is currently playing in the USA South conference matches against five schools. The matches this Saturday added two wins to the ten straight matches Piedmont has won so far. The two wins put the Lady Lions to 2-0 in the USA South division.
Feldman said that he was very happy with his team and that the women played really well.
Piedmont is now 12-1 overall and 2-0 in conference. They will face another USA South member on Tuesday Sept. 24, when they travel to Lookout Mountain to take on the Covenant College Scots at 6:30 p.m.