Professor achieves prestigious fellowship
By: JESSE SUTTON
News Editor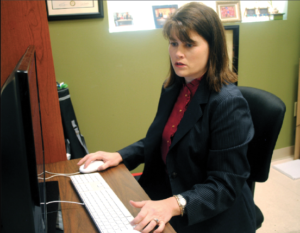 A Piedmont professor was one of 20 faculty members chosen from applicants across the country to partake in a seminar offered by the Emmys Foundation.
Jennifer Arbitter, an associate professor in the mass communications department, applied for the faculty seminar following a mass email sent to all the journalism and television departments across the nation.
Arbitter sent the Academy of Arts and Sciences Foundation a resume, list of courses she teaches and a letter explaining how she would apply the seminar to her classes. She and the 19 other professors will travel to Burbank, Ca. from Nov. 11-15.
Other institutions that have attended the seminar include the University of Notre Dame, the University of Alabama and Ohio University.
"When I was originally hired here, the focus of my courses was more on journalism," she said. "What [I've] discovered… is that many of [my] students that are interested in video and film are actually more interested in the entertainment side… It's not so news oriented. And, since my primary background is in news and journalism, I told [the foundation] in my letter that I would love to be able to give [students] more guidance when it came to the entertainment side of it."
The professors will experience panels where directors, writers, producers and others in the television industry will speak as well as behind-the-scenes action at television shows.
For example, in 2011, the seminar featured a session called Programming the Network Channels with representatives from Fox, CBS, The CW and NBC.
"In particular, I'm interested in meeting with the network executives as to what they are looking for in potential employees, pilots and those kind of things," she said. "While I know what good television looks like, I'm not as informed in the business aspect of how would someone from Piedmont would make it into that entertainment television area with a job. That's what I really want: help the students get where they want to go… I want to feel like I am providing the best possible opportunities for our students."
Before teaching at Piedmont, Arbitter worked as a news reporter, anchor and director for 12 years at WNEG-TV, which is now owned by the University of Georgia and renamed WUGA-TV.
At the end of 2004, she decided to retire from the hectic television schedule and become a stay-at-home mom with her then two and a half year old son, Mark.
However, following her absence from television, she began to receive job offers, one of which was from Piedmont College who needed a professor to teach television classes.
"I always thought that I might teach one day way down the road," she said.
In the fall of 2005, Arbitter began working on her MBA at Piedmont while teaching two courses as an adjunct professor.
In 2007, she became a full-time professor and currently teaches all the video production classes, Media Management and others.
She also serves as adviser to the department's student-run television station, PC 60.
"She has expressed to me her desire to become more educated in the entertainment television field," said senior mass communications Galen Morris, the PC 60 Television Station Manager. "This shows me that Professor Arbitter is still eager to learn in order to better educate her students and that is very respectable and professional."
"I always wanted to have some sort of career that involved television," she said. "I really do think TV is the greatest invention of all time."