Collins' balancing act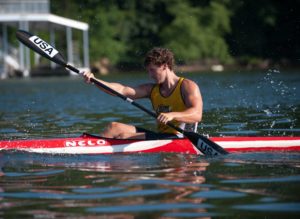 Water flies at a rapid pace, catapulting upward from each side of the boat.
With each swat at the water, a kayaker displays precision, consistency and balance over the scene at Lake Lanier in Gainesville, Ga.
The spectacle is not one easily mastered, but extreme repetitiveness has been branded into the mind and body of Stanton Collins.
For Collins, it's just another day out on the water as he continues to train for what he hopes will one day turn into a spot on the U.S. Olympic kayaking team.
It's an aspiration that a very small percentage of people will ever fulfill, but one that Collins, through countless hours of perfecting his technique, could  one day achieve.
Yet, through all of the preparation, all the importance that rides on him living out his dreams and representing his country, he still feels there are equally important matters he must tend to.
"I know how important my education is, and I need to really stay focused on it," Collins said.
Collins is a sophomore business major at Piedmont College and a student who seems nearly as determined to succeed in the corporate world one day as he does on the water.
It's a testament to Collins' commitment:  a difficult balancing act that only a person with the utmost maturity could maintain.
The road to become an Olympic hopeful wasn't typical, nor was it easy. Collins tried his hand at football, baseball and soccer, but he eventually realized how important kayaking was to him.
Even when he discovered the sport, though, he wasn't exactly a natural.
He laughed as he described himself starting at a young age, where he sometimes couldn't keep his boat right-side up.
"I didn't start getting good until I really started dedicating myself to it," he said.
And now his boat stays up-right, perfectly balanced.
It's something that Collins' coach, Claudiu Ciur, often sees in his young pupil.
"He has such passion and drive to succeed. When he puts his mind to something, it's hard to keep him from achieving it," said Ciur.
Yet Collins also stresses over exams and essay deadlines.
As he has gotten tired at times of kayaking, he has also wondered why sometimes he is in school during such an important time in his athletic career.
"I get the feeling when I'm getting closer to a big race, and I have a lot of school work to do. I think, 'why am I having to do this?' But I know several people that have kayaked and managed to get their doctorate at the same time, so I have nothing to complain about," he said.
Still, Collins certainly carries a lot of weight.
The fun of college life is something he craves, and makes time for whenever he can, but he doesn't let it knock him off balance.
Stroke after stroke hits the water, keeping his balance after every surging strike to the clear substance.
He's building up to be something much more than just a professional athlete with the included fame and fortune.
"My main goal in kayaking isn't necessarily to be the best; it's to be so good that the U.S. will really get into the sport. I want to be the guy that got people interested," says Collins.
It's clear that he has quite a mountain to climb to accomplish that, through foreign competition, lack of funding for the U.S. team, and a grueling schedule.
But Stanton Collins certainly has never looked for a way around it.
As far as what he does after kayaking, well, that's not exactly so clear to him.
"I don't know, it's hard to think that far ahead. But when the time comes, I'll be ready," he said.