The Wild Wetlands A conservation editorial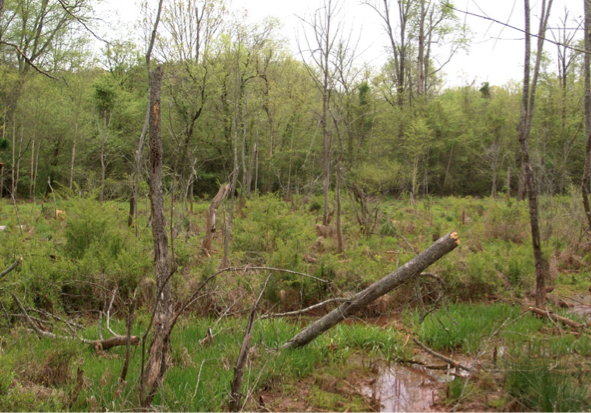 By BROOKE TERRILLI
Staff Writer
When I first toured Piedmont in 2008, we walked across the bridge to see the Swanson Center. As we crossed, we all stared at the red clay surrounding us with two pitiful little streams winding through the mess of mud.
When I began my freshman year here, our PC 101 project was to go out and plant hundreds of trees to help initiate the growing process.
I thought planting little sticks in the ground was crazy.
When I look out in the wetlands today, having watched it grow the past four years, I am very proud of the ecosystem that has been built on campus.
To this day, I hear students complaining about how useless and ugly the wetlands are.
Their lack of appreciation for what has been created on their own campus, in my opinion, is due to lack of knowledge and participation.
Wetland environments serve an important purpose across the global environment, ranging from being a filtration system to a wildlife habitat.
As a filtration system, the wetlands pull a significant amount of pollutants, heavy metals, 92 percent of phosphorous and 95 percent of nitrogen from waterways, making the water fresher, cleaner and safer to drink and use.
Wetlands have the ability to store one-to-one and a half million gallons of water per acre.
Their ability to store and slow down water combined with their ability to filter sediments makes wetlands good erosion buffers.
Due to the previous wetlands contributors, wetland environments are highly and biologically productive.
This means that they are able to grow and maintain a wide variety of organisms because energy is readily available.
This leads to why wetlands are such good habitats for wildlife.
The ability to grow and support smaller animals and a variety of plants increases the amount of larger animals the wetlands can host.
For example, beavers roam the streams every night. Red foxes live and hide in the brush. Snakes, rabbits, frogs, turtles, fish, birds and more can all be found in a multitude of species right in our own dorm backyard.
Maybe I'm a biased biology major, wanting to conserve an ecosystem. Or maybe I just have such a high appreciation because I've had so many opportunities to experience the jungle by the bridge.
My senior research is based off of the frog species in Piedmont's wetlands. I've been ten feet from a beaver splashing nearby. I've seen a family of red foxes walk right in front of me.
Through class trips, I've waded through the waters and caught fish and amphibians. I've been feet from a giant snapping turtle.
It's an experience neither I, nor many of my classmates, could ever enjoy if our wetlands were not here.