The Learning Center receives new home
By ELIZABETH TYSON
Contributing Writer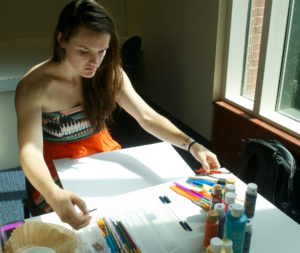 It's the beginning of the second year of operation for the Learning Center, and they have a new location – the Arrendale Library.
The Learning Center moved to the library  in an attempt to add space and be closer to resources that students can use.
The new room, L-33, is complete with multiple worktables, computer access, and three more private work desks. Coffee and tea are also available. 
The Learning Center is open from 9 a.m. to 9 p.m. Monday through Thursday and 9 a.m. to 4 p.m. on Fridays. Tutoring in the Learning Center is free to all students. You don't have to make an appointment even though it is encouraged.
Tutoring is offered to everyone, not just to those who have a low grade or have trouble understanding an assignment. Coming to the Learning Center might help with that little push to turn a B into an A for a class. It is also a quiet place for studying. 
 "The Learning Center is another resource that Piedmont College offers for students to take control of their own learning," said Windy Charles. 
The student tutors who work in the Learning Center cover most subjects, including Psychology, Math, Spanish, and Writing, and there is also help available for graduate level students.
 On the Learning Center tab of the Piedmont website, you can see all the different subjects covered as well as who the tutors are and when they are available. 
"I think it is a great resource," said Rosie Walk, junior art major. "I know it's there if I need help with a specific class but don't want to go to my professor."
The tutors have been trained to go over a form in order to identify what the key aspects and focus of the session will be. Once you've found an area to concentrate on, the tutor will do his or her best to help. If the tutor or you feels like there needs to be another session, you can schedule the next one or drop by when you feel you need help. 
If you're worried about privacy in receiving tutoring, each tutor signs a confidentiality form that keeps him or her from divulging your information. 
"We also welcome new tutors," Disabilities Coordinator Anne Hughes said. 
"Any student who does well in a given subject and has the endorsement of the head of that department can tutor for us."