Wanderlust: New Magic Dragon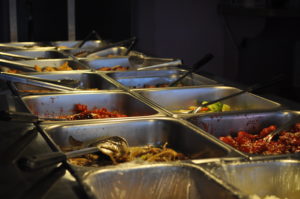 By ALEXANDRIA SMITH
Sports Editor
Most Chinese restaurants have giant tanks of exotic fish and Asian porcelain figurines, but not The New Magic Dragon.
It simply has bare walls and a small tank with a single goldfish in it.
When you enter, the restaurant looks like a total dive. It's completely empty, and the owners are more than excited to see you walk in the front door.
The restaurant is located next to Papa John's in the Kmart shopping center in Cornelia.
It smells of fragrant orange chicken and teriyaki beef, largely due to the enormous buffet set up in the back of the restaurant.
The vinyl booths and green carpet give the place a dated feel.
I had the sesame chicken with steamed rice, and I am very picky when it comes to Chinese food. The fresh chicken was dripping in the sweet sauce. The rice was soft and fluffy, cooked to perfection.
They had lunch specials that seemed to be a great deal. My plate cost around eight dollars at dinner time.
It was fairly priced for the amount of food I got. I couldn't finish it and had lunch for the next day.
If you can get over the dingy feel and sparse decor, the food is great, and you will receive attentive service.
Overall, I would make it my go-to Chinese restaurant in Habersham County.