Home Away From Home: Aria Solano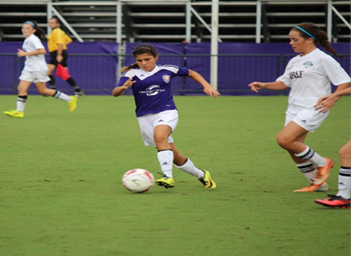 Transitioning from high school sports to collegiate athletics is challenging for almost every athlete, but imagine doing it five hundred miles away from your hometown.
Aria Solano, a graduating senior at Piedmont University and member of the Piedmont University Women's Soccer team for four years, spoke to me about her own struggles of living over five hundred miles away from her family while trying to compete at a high level.
"Moving away from home was one of the most challenging times in my life, and it definitely affected my confidence level on the soccer field," Solano said.
As part of the freshman class of 2019 at Piedmont University, then Piedmont College, Solano joined the defending USA South champions Women's soccer team.
"I wanted to join a winning program, and that is exactly what Piedmont was doing before I even stepped on campus. I turned down offers to different colleges where I probably would have seen playing time sooner, but winning mattered to me," Solano said.
Like many other freshman athletes, Solano found herself in a time-scarce playing role appearing in ten games while contributing six shots total, two being on goal.
"My friends and the university (Piedmont) as a whole got me through my freshman year. Not playing the majority of minutes in matches was not what I was used to. It made me realize that my success on the soccer field did not define who I was," says Solano.
Solano's challenging situation ignited a passion for fitness and weight training that she did not know she had. And through conversations on my podcast, "Am I Still an All-Star," a youth athletic-centered podcast, Solano explained her experiences could be turned into a positive.
"Everything worth having in this life, you have to go out and work for it, especially athletically. Just because I did not have the greatest start to my soccer career did not mean it had to end that way. The only person who could change it was me, and I want other athletes to know that, too," Solano says.
Solano's career would end much differently than it started, with her totaling over 250 minutes played, eight total shots, and one goal scored in 2022, her senior campaign. Most importantly, Solano's love for the game was re-invigorated and introduced her to the next steps she intends to pursue on her professional working journey.
"I have already begun training students in the private sector of strength and conditioning and intend to help athletes reach mental goals with my degree in Psychology," Solano said.
Adversity and hardships in sports are inevitable. No athlete in human history has won every game or ever not felt a feeling of defeat, but using those lessons learned to impact others positively is Solano's message.